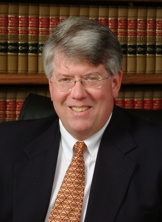 R. ALAN PETERSON
GENERAL OVERVIEW
Alan Peterson has 20 years of experience as an attorney focusing on civil disputes. His practice has included settling, mediating and litigating construction disputes over employment issues, quality of construction issues, and quality of product issues. Mr. Peterson has been recognized by his [peers with an AV rating from the Martindale Hubbell Association. He has received recognition in the publication "The Best Lawyers in America." Prior to attending law school, he was a high school teacher for ten years.
EDUCATION
J.D., with honors, University of South Dakota, Vermillion, South Dakota 1986

Masters of Arts, Rhetoric and Public Address and Communication Theory, North

ern

Illinois

University

, DeKalb,

Illinois

, 1975

Bachelor of Science, Magna Cum Laude, Northern State College, Aberdeen, South Dakota, 1973
DISPUTE RESOLUTION INVOLVEMENT
Mr. Peterson has attended a number of continuing legal education programs involving negotiation and mediation skills, He has completed both the Dispute review board training program and the Arbitration Training Program provided through Construction Dispute Resolution Services.
Mr. Peterson has served as a mediator, as well as actively participated in mediations in numerous areas. He has particular experience involving construction litigation in the following areas:
Roofing integrity dispute

Metal building

construction dispute

Window quality dispute

Mold-related health issues
PROFESSIONAL AFFILIATIONS