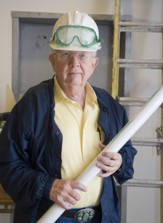 BERT ROBINSON
GENERAL OVERVIEW
Extensive experience as Mediator-Arbitrator-Litigator-Advisor concerning construction law involving, e.g., Louisiana New Home Warranty Act, concrete, brickwork, carpentry, trim, drywall, painting, soils, foundations, framing, roofing, plumbing, electrical, HVAC, mold, insulation, renovations, design, sitework, soils, estimating, insulation, breach of warranty, mold, for over thirty years qualify Bert Robinson to help people resolve their disputes.
EDUCATION
He graduated from The University of Texas with a Bachelor of Business Administration degree before obtaining his Juris Doctorate degree from Louisiana State University.
BUSINESS EXPERIENCE
He began working summers and Saturdays when he was twelve years old, then helped put himself through college. He worked in a boat building business, then ran a production plant for a southern retail chain until he entered law school. He was managing officer of a real estate title insurance agency and has been active in the purchase, management and sale of residential, apartment and commercial real estate.
LEGAL/MEDIATION/ARBITRATION EXPERIENCE
He was law clerk to the U. S. District Court in Baton Rouge, Louisiana before practicing construction law. He served as advisor and litigator with regard to all aspects of construction, handling contract negotiation and drafting, mediation, arbitration and litigation. He represented general contractors, subcontractors, suppliers, specialty contractors, sureties and insurers, architects, engineers, designers, owners and developers including warranty claims. He is qualified as an arbitrator on the construction panel of the American Arbitration Association, and serves on the arbitration panel of the National Arbitration Forum. He serves as an arbitrator by appointment of the Louisiana State Bar Association.
FORMAL ADR TRAINING
He receives formal annual training in ADR (Alternative Dispute Resolution).
PUBLICATIONS, LECTURING AND TEACHING
He has published papers and lectured on the Louisiana New Home Warranty Act, and he co-authored and published a guide to the Louisiana lien laws relative to construction.
He has served as Construction Law Lecturer in the Department of Construction of Louisiana State University and has served as an Adjunct Professor of the Louisiana State University Law Center. Articles that he has written concerning construction have been published in the Louisiana Bar Journal, the Baton Rouge Bar Association Journal, the official publications of the Louisiana Associated Builders and Contractors and the Louisiana Associated General Contractors. He has lectured before the Construction Specifications Institute, the Louisiana Law Center, the Lead Abatement Program of LSU's Occupational and Environmental Health Division, the Louisiana Transportation Engineering Conference, the Louisiana Realtor's Association, and many other professional organizations on the subject of construction.
PROFESSIONAL ASSOCIATIONS
In addition to serving as an officer and director of several bar associations, he is a past Associate Member of the Associated General Contractors, the Associated Builders and Contractors, and the American Subcontractors Association; he has served as a member of the Dispute Resolution Board Foundation.