| | |
| --- | --- |
| GEORGE P. "GEEP" MOORE, JR. | |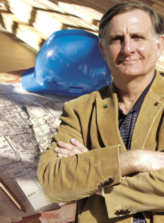 GEORGE P. "GEEP" MOORE, JR.
GENERAL OVERVIEW
Geep Moore is a third generation building/remodeling contractor. He has 38 years of experience in the building industry and has been involved in the construction of new homes and additions as well as remodeling projects, property damage repairs, and small commercial construction projects. In conjunction with the insurance property damage repair work, Geep has developed a structural drying business and has negotiated well over a thousand insurance claims between the insured and insurance companies. Through this he has also become quite familiar with mold—its remediation and protocols. Since 1992 Geep has provided forensic construction consulting as it relates to construction problems and defects. He has represented both plaintiffs and defendants in construction litigation of new homes, remodeling, preexisting homes and commercial work as an expert in depositions, discovery, and court. In each case, he has provided documentation and testimony as to the problem, causation, solution, and costs associated with the solution. Through all of these experiences, Geep has become convinced of the need for arbitration and mediation and has worked through the Louisiana State Home Builders Association to develop contracts with ADR clauses.
EDUCATION AND CERTIFICATIONS
Geep received his Bachelor of Science degree in Construction Engineering Technology from Louisiana Tech University in May 1975. In 2005 he completed the CDRS training program in Theory, Practice and Rules of Arbitration in Albuquerque and is a Certified Mediator in basic and advanced civil mediation according to Louisiana statute. In 2006, he completed training to earn his Graduate Master Builder (GMB), Certified Graduate Remodeler (CGR), and Certified Aging in Place Specialist (CAPS) designations.

Geep is a Certified Graduate of the Vortex Drying System specializing in the structural drying of wet materials. He has also been certified as a Mold Remediator (CMR) by the Indoor Air Quality Association (IAQ) and was the first Certified Restorer (CR) in northwest Louisiana. He is also a Certified Water Damage Restoration Technician.

CONSTRUCTION INDUSTRY PROFESSIONAL LICENSES
Geep has been licensed by the state of Louisiana as a General Contractor and Municipal & Public Works Contractor (License #32880) since 1985. He obtained his Residential Building Contractor license (#83019) when this law was enacted in 1996. Geep also obtained his Home Improvement Contractor Registration (#HI550041) when this law was enacted in 2003. In fact, he was instrumental in lobbying to get this act passed by the state legislature.
CONSTRUCTION INDUSTRY INVOLVEMENT
Geep has been involved with the Home Builders Association on the local, state, and national levels. He is the current Vice President of the Louisiana Home Builders Association as well as a member of the State Board of Directors and has served as the State Chairman of the Remodelor's™ Council. On the local level, Geep has served as President and as a member of the Board of Directors of the Northwest Louisiana Home Builders Association (NW LA HBA) and is the current and past chairman of the local Remodelor's™ Council. In 2006, Geep was named the NW LA HBA "Member of the Year." In 2003, he was honored as the NW LA HBA "Builder of the Year" and received the NW LA HBA "President's Choice Award" in 2000. In 2007, he was named to the Remodelers Board of Trustees of the National Association of Home Builders (NAHB). He is a member of the Institute of Inspection Cleaning and Restoration Certification (IICRC) and is on the Board of Directors of the local Better Business Bureau (BBB).
Geep also volunteers with the local Habitat for Humanity organization through the local HBA and is a member of the Education Council of the Caddo Career Center.