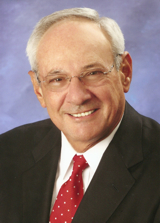 GENERAL OVERVIEW
James J. Baranello has been a general contractor and a panelist for the American Arbitration Association specializing in construction arbitration for more than forty years. The cases involved Private, Commercial, Residential, Institutional and Public Works disputes ranging from $75,000 to $10,000,000. As a licensed Real Estate Broker, Mr. Baranello also has vast experience in Commercial Property Management.
CONSTRUCTION EXPERIENCE
During my construction career I was a Developer (developing and building properties for a family-owned real estate corporation), Construction Manager, as well as a General Contractor. Early on I held various positions while working for a family-owned General
Construction Business. I was a foreman, construction superintendent, project manager and ultimately president of the corporation. As part of my job description, besides monitoring construction activity, I oversaw all construction disputes and claims preparations involving the family corporation. I am familiar with all aspects of General Construction, bidding (including the accompanying HVAC, electrical and plumbing work required) and project development. Later in my career I received a New York State Real Estate Brokers license and began commercial and residential property management of my company's properties and properties owned by private individuals.
EDUCATION
Bachelor of Arts, Nasson College – minor in Business Administration -1963

Associate Degree, Institute of Design and Construction – 1966

Various seminars on Construction Schedules and Proof of Claims,
University of Denver, College of Law - 1977

New York State Real Estate Brokers license – 1981

7A Administration (alternative management) City of New York – 1993
ALTERNATE DISPUTE RESOLUTION EXPERIENCE
I have been a panelist for the American Arbitration Association for more than 30 years specializing in Construction related disputes. These cases involved single and three party panels of arbitration. Claims ranged in value from $75,000 to $10,000,000 from public works to commercial warehouses, residential and private works projects. My experience also covers international arbitration disputes for the International Center for Dispute Resolution. I have also been trained in Mediation, as I attended a 30 hour course in Mediation from Hofstra University, School of Law. I have also attended various educational seminars for the American Arbitration Association.
AAA Construction Industry Arbitrator II Training, New York, NY; March 2002

AAA Arbitrator Update – 2001

AAA Construction Industry Arbitrator Training – Garden City, NY December 1996

MEMBER of AAA Advisory Committee Panel-Long Island Regional Office; March 1996

AAA Training Seminar-Long Island, NY; June 1994

AAA Seminar-Subject: "Resolving Construction Disputes" – Atlantic, City, NJ; November 1985

AAA Seminar-Subject: "Construction Disputes: How to Prevent them"- New York City, November 1982

AAA Basic Arbitrator Training – Long Island, May 1977