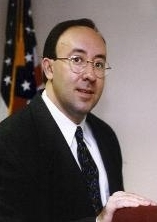 GENERAL OVERVIEW
Jason G. Ourso was appointed as Judge with the Louisiana Workers' Compensation Court in 2002. Judge Ourso currently presides over an average docket of 500 workers' compensation cases. Pursuant to the Louisiana Constitution, workers' compensation judgments are appealable directly to the applicable Louisiana Court of Appeals, and then to the state's highest court, the Louisiana Supreme Court.
Education
Judge Ourso graduated Magna Cum Laude and received a Juris Doctorate degree at Southern University Law Center in 1991, and he received a Bachelor of Science degree in General Business Administration/Pre-Law at Louisiana State University in 1987.
Dispute Resolution Experience
Prior to judgeship, Judge Ourso was a charter Mediator with the Louisiana Workers' Compensation Court for 10 years conducting thousands of mandatory mediations and was honored for achieving the highest settlement rate in 1998 in a Workers' Compensation Research Institute Report. Judge Ourso has completed over 250 hours of Arbitration and Mediation training, including but limited to the National Judicial College, the American Arbitration Assn., and the International Assn. of Accident Boards and Commissions. Judge Ourso is a La. Registered Civil Mediator pursuant to the La. Mediation Act, La. R.S. 9:4101, and has been certified since the inception of the Registry. Judge Ourso serves on numerous Mediation and Arbitration Panels involving a variety of subject matters.
Construction or Construction Law Background
Judge Ourso is experienced in mediating and arbitrating construction cases. Judge Ourso currently serves as a Mediator for the Hurricanes Katrina and Rita Mediation Program of the La. Dept. of Insurance and administered by the American Arbitration Assn., including commercial and residential construction issues, among others. Judge Ourso also serves on numerous other panels involving construction issues, including but not limited to Construction Arbitration Services, Inc. (CAS), Louisiana State Licensing Board for Contractors, Better Business Bureau, National Arbitration Forum, and Baton Rouge City Court. Further, Judge Ourso has experience litigating construction issues in his private law practice.
Professional Affiliations
Judge Ourso was admitted to and is in good standing with all Louisiana State Courts and the Louisiana State Bar Assn. since 1991, the U.S. Supreme Court since 1996, the U.S. Fifth Circuit Court of Appeals since 1992, and all U.S. District Courts in Louisiana since 1991.
Judge Ourso is a member of the Louisiana State Bar Assn., ADR Section Member, Baton Rouge Bar Assn., Workers' Compensation Section Ex-Officio Member, 18th Judicial District Court Bar Assn., Wex Malone American Inn of Court, Master of the Bench Member, and the Better Business Bureau (BBB).