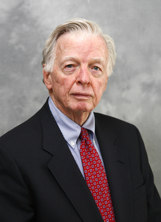 JOHN BALLANTINE
GENERAL OVERVIEW
John Ballantine is an attorney with extensive construction litigation, mediation and arbitration knowledge. He has spent his professional career defending, negotiating to settlement, and mediating and arbitrating may construction-related cases including complex major construction disputes and homeowner disputes over defects in home construction and faulty repairs. He has mediated several hundred construction cases.
EDUCATION
University of Kentucky
(1948-52) A.B. with High Distinction, Phi Beta Kappa, Algernom Sidney Sullivan Medallion; Harvard Law School (1954 -57) LI.B. (nowJ.D)
BAR MEMBERSHIPS & COMMITTEES
Kentucky Bar Association – Members of the Board of Governors 1996-2002; House of Delegates from formation to July, 1980; Chairman, 1966; 1986-92; past member Committee on Professionalism; Past Member of Charter and Fitness Committee of Board of Bar Examiners; Member Supreme Court Civil Rules Committee, 1988-1996; Trustee Clients' Security Fund, 1993-1996; Past member Kentucky Evidence Rules Review Commission, 1995-2002; Member KBA Ethics Committee, 1996 to present; Member Kentucky Nominating Commission for Court of Appeals and Supreme Court vacancies 2004 – present.

Louisville Bar Association – President, 1970; Board of Directors, 1969-71; 1988 & 1989; 1992 & 1993; 1996-2002; Professional Responsibility Committee, 1988-93; Past Chairman LBA Physician-Attorney Committee.

Fellow of American College of Trial Lawyers, 1977 to Present.

Member of Federation of Defense and Corporate Counsel, 1975 to Present

Member of American Board of Trial Advocates (1990 – 2001) (President, Kentucky Chapter, 1990-91).

Life Member of U.S. Court of Appeals (Sixth Circuit) Judicial Conference.

Louis D. Brandeis American Inn of Court 1995-present.

Member of Kentucky Defense Counsel (President, 1981) – present
POSITIONS
Law Clerk, U.S. District Court (Western District of Kentucky) 1957-1958.
Partner, Stoll Keenon Ogden PLLC, Louisville, Kentucky, and predecessor firms, 1958 to present.
ACHIEVEMENTS
Louisville Jaycee's outstanding Young Man in Field of Law, 1966
Who's who in American Law 1990 to Present
The Best Lawyers in America – 1983 – Present
Martindale-Hubbell AV rated since the 1960's
KBA Outstanding Lawyer of the Year 2003
Judge Benjamin Shobe Award for Civility and Professionalism presented jointly by Louisville Bar Association and Louis D. Brandeis American Inn of Court 2005
MEDIATION TRAINING
1. No. of Hours: several hundred hours since 1995
2. Source of Training: Over 40 years experience in preparing, negotiating settlements in mediating more than a dozen types of disputes.
OTHER MEDIATION TRAINING/EXPERIENCE
From September, 1995 to the present I have mediated to successful settlement hundreds of cases involving many different kinds of civil disputes (excluding domestic relations). I have also spent my entire professional life (over 40 years) preparing and defending—and negotiating to settlement –many different types of civil actions in multiple fields of law. Those cases have included complex major construction project disputes and homeowner disputes over defects in home-construction and over faulty home-repairs.
REFERENCES
Susan D. Phillips, Esq. (Defendants)
PHILLIPS PARKER ORBERSON & MOORE
716 W. Main Street, Ste. 300
Louisville, KY 40202
(502) 583-9900

Joseph L. White, Esq. (Plaintiffs)
1469 S. Fourth Street
Louisville, KY 40202
(502) 634-4454