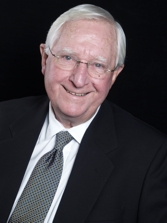 GENERAL OVERVIEW
Current: ADR, Inc.
Profession: Attorney/Mediator/Arbitrator
Work History: Principal in ADR, Inc., an Alternative Dispute Resolution firm, January 1, 1998 - present; Of Counsel, Rose Law Firm, 1993-1998; Senior Vice President/Secretary/General Counsel, United Dominion Industries, Inc., 1979-93; Partner, Bridges, Young, Matthews and Davis, 1958-79.
Experience: Extensive experience in the corporate, commercial, construction, product liability and employment areas of law. Former Senior Vice President and General Counsel of a diversified engineering, manufacturing, and construction company with revenues of $1.7 billion. Extensive experience as counsel in cases involving commercial litigation, contract construction claims, product warranty, product liability, general negligence, employment and contract disputes with claims valued to $40 million. Handled debt and equity issues in the U.S., Canada and Europe, both public and private.
Alternative Dispute

Resolution Experience: AAA: Member, National Panel of Arbitrators and Mediators; Member, Special Panel for Large and Complex Cases (1992-1998); Lex Mundi College of Mediators; Mediator, NASD Mediation Program; Arbitrator, NASD; U.S. Postal Service Mediator; Contract Mediator, EEOC. Served as arbitrator and mediator in construction claims, medical malpractice, commercial, employment and negligence cases. Conducted approximately 450 mediations, and over 150 arbitrations.

Alternative Dispute

Resolution Training: 40-hr. Superior Court Mediator Training, Winston-Salem, 2/93; 40-hr. Lex Mundi College of Mediators Training Session, 12/94; AAA Construction Industry Training Program, 5/97. U.S. Postal Service Mediator Training Program; 8/98; NASD Arbitrator Training, 6/99; NASD Chairperson Training, 10/02; EEOC Mediator Training; Numerous Arkansas and American Bar Association Seminars and Arkansas ADR Commission training sessions.
EDUCATION
University of Arkansas, BA 1956
University of Arkansas, JD 1958
WORK EXPERIENCE
ADR, Inc.
1501 North University Avenue, Suite 420
Little Rock, Arkansas 72207
December 1997 - Present: Principal
Rose Law Firm
120 East Fourth Street
Little Rock, Arkansas 72201
April 1993 – January 1998: Of Counsel
United Dominion Industries, Inc. (merged with SPX Corporation)
13515 Ballentyne Corp. Place
Charlotte, North Carolina 28277
April 1979 - April 1984: VP, General Counsel & Secretary
April 1984 - April 1991: Senior VP, General Counsel & Secretary
April 1991 - April 1993: Senior VP & Secretary
Bridges, Young, Matthews and Davis
315 E. 8th Avenue
Pine Bluff, Arkansas 71601
June 1958 - April 1979: Partner 1961-1979
PROFESSIONAL AFFILIATIONS
American Bar Association - 1958 to Present (Member ADR Section)
Arkansas Bar Association - 1958 to Present (Member ADR Section)
House of Delegates 1974-1977
Executive Council 1974-1977
Chairman, Arkansas Bar Foundation 1976 -1977
Chairman, Young Lawyers Section 1965 -1966
Chairman, Executive Council - 1997-1998
Jefferson County Bar - President 1968-1969
Society for Professionals in Dispute Resolution (SPIDR)
Arkansas Conflict Resolution Association (ACRA)
CORPORATE DIRECTORSHIP
Dickerson Group, Inc, Monroe, North Carolina (a North Carolina and Florida highway construction and real estate development firm 1993-1997)
Tomes Landing, Inc., Port Deposit, Maryland (a Maryland waterfront development company 1993-1998)
Kyzen Corporation, Nashville, Tennessee (manufacturer of chemical solutions and processes for use in high-technology cleaning applications, process water reuse machines and provider of integrated process services 1995 to date)
COMMUNITY ORGANIZATIONS/ACTIVITIES
Charlotte, North Carolina
Board of Visitors, Davidson College, February 1990 to 1993
Board of Directors, Central Piedmont Community College Foundation,
January 1991 to 1993
Board of Trustees, Mint Museum of Art, June 1991 to 1993
Hanover, New Hampshire
Hanover School Board, 1985 -1988
Pine Bluff, Arkansas
First United Methodist Church, 1958 to present
Board of Trustee, 1972 -1979;
Sunday School Teacher, 1965 -1979
United Way Jefferson County
Campaign Chairman, 1965;
President, 1966
Kiwanis Club, President 1969
Chamber of Commerce, Board of Directors
Jefferson County Library
Board of Trustees 1973 -1979;
Chairman 1975 –1979
Pine Bluff Planning Commission, 1997-1997
Little Rock, Arkansas
Kiwanis Club, 1996 to present
Arkansas Small Business Council, 1995 to present
Pulaski County Volunteer Juvenile Probation Officer